Heavy snow and icy conditions caused chaos for drivers during Scotland's morning rush hour.  There were road closures and accidents all over the country as motorists struggled to cope with the weather.  And the heavy snow even forced the closure of one of Scotland's major motorways during one of the busiest periods of the morning.  The southbound carriageway of the M74 was closed for more than an hour at Lesmahagow, South Lanarkshire, due to the icy conditions of the road.  It was finally able to reopen just after 9am after gritters and snow ploughs were used to clear the way.  An accident involving multiple vehicles on the northbound carriageway of the M77 near Galston, East Ayrshire, added to the chaos of the worsening conditions.  Earlier in the morning, the A9 at Dunblane, Stirlingshire, was closed by police after a lorry jack knifed on the road near the Keir roundabout.  Restrictions were put in place on the Skye Bridge after the weather made driving conditions very dangerous.  Drivers crossing the Kessock Bridge near Inverness were also forced to deal with restrictions due to the adverse weather.  The Met Office have issued several yellow be aware warnings and expect more snow to fall across the country tomorrow. 
▶ Full story on eraldscotland.com
▼ Related news :
●
In pictures: Snow causes finally brings Winter Wonderland to Glasgow
Evening Times
●
How cold does it have to be for snow to fall? How does snow form?
Daily Express
●
Video: More snow and ice to hit Scotland after day of travel disruption
Evening Times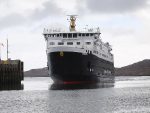 ●
Ferry service disruption warning as Scotland gets ready for Arctic winds
Press and Journal
●
Europe: Heavy Snow Brings More Misery, Deaths, Travel Delays
World News
●
Snow brings hope to Istanbul: 'There comes a moment when you can forget your sadness'
World News
●
SNOW PICTURES: Send us your pictures of the beautiful snow covered fields and landscapes of East Lancashire
Lancashire Telegraph
●
Snow arrives in the West Midlands: In pictures
Express & Star
●
Snow in Europe pictures: SHOCKING photographs of snow in Greece, Italy, other countries
Daily Express
●
Snow finally hits Liverpool
Liverpool Echo

●
Snow and ice caused traffic chaos across Scotland this morning
Press and Journal
●
Snow and ice bring traffic chaos to Scotland's roads as country braces itself for two days of extreme weather
Daily Record
●
Snow warning for West Midlands as UK faces a 'real taste of winter weather'
Express & Star
●
Cate Blanchett Has Just Found the Coolest Snow Boot for Winter
Vogue